Here's more information to help you get past the Heartbleed Bug issue.
LastPass, a tool to help users remember and manage their passwords, has provided a handy resource that allows anyone to check a website to see if it was affected by the bug.
The LastPass Heartbleed checker can be found here. 
Just type —or copy and paste — the site's url into the form slot and hit enter. You'll get a report that tells you if the site was affected or not.
I decided to check out the Bank of America site, since I pay my bill there online. Here's what the response report looks like: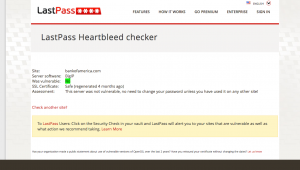 It's a simple way to feel a bit more secure about where you've logged in lately. By the way, LastPass is a handy tool for keeping your passwords organized. We create lots of websites, gmail accounts, and other password-protected items for clients, so I have about 100 or more passwords to keep track of. LastPass helps. (By the way, we're not affiliated in anyway.)
If your website isn't up to snuff, you can miss out on a lot of potential clients. Contact Palmerworks today to discuss a redesign for your website. Call 734-252-9321 to schedule a free consultation. In northern Michigan, call 231-268-0350.