You know you want it. Google Glass is finally available to us "regular people."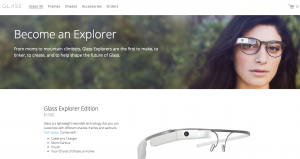 On Tuesday, April 15th only, US residents can buy the Google Glass Explorer Edition at the regular price of $1,500. 
Just go to Google's order page. Select your color. Choose a free accessory. Add some earbuds, or a charging kit and/or carrying case.
Prepare to spend $1,500, and then submit your order. Google will ship your Glass within 5 to 7 business days.
How can you beat that deal?? Just hop on over to the Google Glass website and grab yours now.
Palmerworks specializes in websites for small businesses. All websites include domain name and hosting for one year. We offer personalized service, and we'll meet to discuss your vision for your new site. We'll also be there after the site is complete to do small updates throughout the year. We serve the greater Detroit area and northern Michigan businesses. Don't live in Michigan? We work remotely with out-of-state clients, too. We've created websites for companies and organizations in Pennsylvania, South Carolina, Florida, Maryland, Washington, DC, and Canada.
Call us today so we can discuss your new website. 734-252-9321. In northern Michigan, call 231-268-0350.