Tonight's drawing for the megamillion jackpot is a biggie – the jackpot has swelled to more than $400 million. Of course, the cash option is a mere $224 million. I guess I'd have a better chance of winning if I buy a ticket! Or would I?
Odds of winning the jackpot used to be 1 in 176 million. This past October, those odds changed to 1 in 259 million. Players used to have to pick six numbers from 1 to 56, but now it's 1 to 75.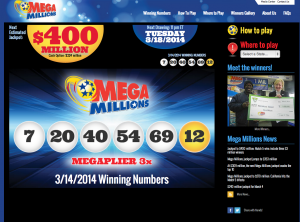 Improve your chances of winning new customers for your small business with a new website from Palmerworks. Already have a website? Consider a redesign that's mobile-friendly. We can also write your blogs, design your newsletters, and create a brochure that highlights your services.
Contact Palmerworks Design for a free consultation at 734-252-9321, today.
Statistics on lottery odds from the CBS News Website.