Rick and I enjoyed our third year photographing the annual Delta Air Lines Golf Outing. This year's event took place at the historic Western Golf & Country Club in Redford, Michigan.
More than 35 teams enjoyed a sunny, hot day of golf, and we provided the photos. We printed more than 140 5×7 photos onsite to present to each of the diehard golfers when they returned to the clubhouse.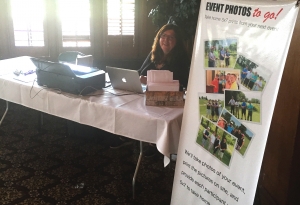 We thoroughly enjoyed meeting the happy golfers — and they enjoyed receiving their photos.
Event Photos To Go provides photos for golf outings, picnics, and other company get-togethers. Participants can take the memories home with a 5×7 print provided right at the location.
We provide personalized service, and we also provide access to all the photos on our website after the event. If you have an upcoming company event, call us at 734-252-9321 or email us at info@eventphotostogo.com.