Did you ever see that one person who exemplifies what a holiday is all about?
Rick and I were enjoying breakfast this morning at Kortman's, a small diner on US 23 in Rogers City that's been around as long as I can remember.
We hope you enjoyed your holiday weekend and honored those who served our country. And here's a tip of the hat to the hard-working men and women who are on the job every holiday.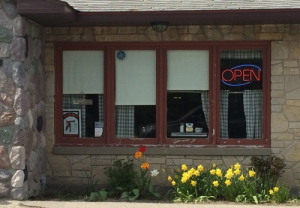 If you're ever in Rogers City, be sure to drop by Kortman's for some delicious fresh eggs, Plath's bacon, and toast made from home-made bread.
Palmerworks Design supports Michigan small businesses. We can create an affordable website for your local business if you live in suburban Detroit or northern Michigan. Give us a call today at 734-252-9321 or 231-268-0350.