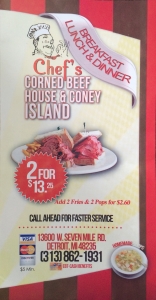 Mike Z makes the best corned beef in Michigan. It's a secret recipe, so we can't publish it, but you can try it for yourself at Chef's Corned Beef and Coney Island on W. 7 Mile and Schaefer in Detroit.
Palmerworks is designing his new mobile-friendly website, setting up his new Facebook page and listing the restaurant in the major online directories.
If your business needs a site, give us a call at 734-252-9321 for a free consultation. Let's meet to discuss the best plan for your online presence.